Bridesmaid Gifts For Every Style And Budget
Shop our selection of unique bridesmaid gifts below!


The Ultimate 37 List Of Unique Bridesmaid Gifts To Impress Your Bridesmaids (from $1.99 to $50)  
Unique bridesmaid gifts are a great way to show your appreciation for all the help and support your bridesmaids have given you leading up to your big day. But with so many options available, it can be tough to know which one to choose. To make things a little easier, we've put together a list of 37 amazing gifts, ranging from $1.99 to $50. So no matter what your budget is, you're sure to find something that fits.
Unique Bridesmaid Gifts $1.99 to $20
$1.99
Reach out and touch a heart with these beautifully designed proposal cards. They are the perfect way to ask your bridesmaids to be part of one of the most important days of your life.
$4.99
A fun and unique koozies are great Unique bridesmaid gifts for your girls on their special day. Don't forget to add the bride-to-be also! Our polyester-backed four-millimeter thick foam makes this koozie very durable and keeps your drinks nice and cold even on hot summer days.
$6.00
These beautiful compact mirrors are essential for making sure you're looking your best. Choose to add an initial or other customization to your compact from our list of designs.
$7.50
The Wanderlust luggage tag is a cute gift for the bridesmaid. Hang it in your bag on the way to the honeymoon or anywhere else where a unique bridesmaid gifts is required.
$7.99
A bridesmaid gifts bag can be a wonderful way to thank your bridal party for making such an important contribution. Our beautiful totes are stitched with love and can be custom printed with up to 2 lines of text. Choose from several ink color options, including several glitters and metallic options that make these bags the perfect accessory for any occasion!


Penelope Tote Bag

$7.99
Send your bridesmaids home with a sweet little gift to remember your special day. Each tote bag features two handles and measures 13 inches long and 11 inches wide, perfect for holding all of the beautiful things that your bride just gave you! Customize this tote bag with up to two lines of text, select between multiple ink colors (including several glitter options), then hand carries it everywhere you go!
$7.99
This custom koozie is perfect for those hot summer days. This koozie is filled with lots of sparkles and glitter and will always remind that special person of your friendship. A perfect gift for bridesmaids, best friends, or sisters!
$8.86
Love Wine Stopper is the perfect gift for someone you love! The Love wine stopper is made out of durable Zinc Alloy, which includes an original and classy design. The stopper is very easy to insert, and can easily be removed with just one pull!
$9.00
Your bridesmaids will love this fun visor. This headwear is made of lightweight plastic and the pink, purple, and blue tinted visors will certainly keep the sun out of your eyes while adding a bit of style to your beach bachelorette or pool party attire. Personalize it with your favorite font in any color that matches your personality for a great gift for you and your bridal party!
$9.99
These bags are the perfect Unique bridesmaid gifts. They're cute and especially come in handy on the wedding day! The bags can hold pretty much all of your make-up and they don't have a bulky, overbearing look to them. It makes cleaning up after the wedding day so much easier and more convenient.
$10.00
Personalized Bridesmaid Gift, Black Hip Flask is a black 6 oz. stainless steel hip flask, just a unique personalized favor. This personalized flask is a perfect customized wedding favor for the bride, bridesmaids, or any particular person in your life on his big day!
$10.00
Surprise your bridesmaids or friends with these personalized flasks on their special day! This flask is- a chic and trendy way to toast the bride and groom while celebrating at the reception party or brunch! The latest personalized flask with a classic matte finish that makes it look timeless and sure to impress.
$12.49
Our Gold Ring Flask is a great party accessory for your bachelorette party or as part of Unique bridesmaid gifts. Giving this unique bridesmaid gift is Perfect, It can also be customized with initials, dates, or words of your choice. personalized flasks make wonderful gifts to celebrate any occasion.
$12.99
Beach-ready bridesmaid one-piece swimsuits by Bride Tribe are cute, flirty, and full of fun. Whether you are lounging in the sun or frolicking in the ocean, our bridesmaid swimsuits are a must-have for every wedding day. Be confident that every detail is perfect for your big day with our range of styles, colors, and designs to choose from.
$12.99
These elegant, flower-inspired earrings are the perfect accessory for your wedding day look. Inspired by the beauty of a garden, each petal is meticulously hand-crafted to ensure your bridal party shines as brightly as you on your big day.
$14.99
Give your bridesmaids something they will love and use as a memory of your special day. These custom-made sleep eye masks are the softest, comfiest masks you'll ever wear. Whether your friends like to sleep on their sides or wake up in the morning with puffy eyes, this is perfect for any woman!


$15.99
Bridesmaid Earrings are the perfect bridal party gift for a bachelorette party, bridal shower, engagement party, or honeymoon.
$15.99
These beautiful earrings are perfect bride gifts and bridal party gifts for a bachelorette party, bridal shower, engagement party, or honeymoon. They look great paired with a taupe gown in the morning and evening wedding attire.
$17.00
Gift this humble but meaningful piece to your bridesmaids as a token of gratitude for all that they've done for you. The Bridesmaid Necklace will create a beautiful and memorable moment during your bachelorette party on that special day.
$17.00
Help your bridesmaids feel extra special on your wedding day with this bridesmaid proposal necklace. Treat your best girls during a bachelorette party or create an unforgettable final look for them on your wedding day with this set.
$17.50
Love is the greatest gift on earth, and it doesn't get much better than what you'll feel when you can share a glass of wine with your favorite bridesmaids. Before the big moment arrives, celebrate the start of a new life together with personalized wine tumblers for all members of the bridal party.
$17.50
A beautiful hanger for your bridesmaids, who have played a vital role in making your wedding day a success. Handcrafted using metallic wire, this bridesmaid hanger is an excellent way to hang the dresses or robes of your wedding party on your big day.
$19.99
This sweatshirt is the perfect gift for your bridesmaids. They will thank you for the matching sweatshirts that make you look great when you all head to the gym… or, where ever they go!
$19.99
Expand your bridal wardrobe with our beautifully stitched floral satin robes at an affordable price point. Wear them as a unique bridesmaid or gift them to all of your guests as a unique favor. Crafted from luxurious satin and featuring a scalloped edge hem, our elegant floral robe will add a pop of color and pattern to your dressing table and make an excellent alternative to single-colored robes!
$19.99
Whether you're searching for a casual tank top or a classy vintage look, the Bridesmaid Collection by Iron Forge offers everything you need to bring your bridesmaids together. Our selection includes tank tops that are perfect for layering during chilly fall nights, adding layers underneath during the colder months and more.
$19.99
These super soft bridesmaids cropped hoodies are the perfect gift for your bridesmaids on your big day.  They are made with a soft cotton blend and are comfortable and breathable for all kinds of weather. The front pocket makes it easy to store their essentials when they're off duty! 
$19.99
If you are looking for a gift that your bridesmaids will love, the customized one-piece swimsuit is perfect. The suit stands out and is fun and festive, which makes it a great option if you're having a bachelorette party at the beach, pool, or any other place around town.
$19.99
These bridesmaid tees are what all bridesmaids need. The soft and comfy tee is not only perfect for the bride but also an awesome gift to be given to your wedding party members.
Unique Bridesmaid Gifts $20 to $50
$22.99
Your bridesmaids will be amazed by this exquisite, handmade coin purse! This elegant clutch bag is made from beaded fabric that gives it a classic yet modern look. It has a convenient design, with three pockets to store all of your belongings; two large spaces for cards and cash; and one pocket for coins. The beaded clutch purse can carry all your necessities throughout the exciting occasion with ease, from everyday essentials to special events. Get this bridal clutch handbag for yourself, or surprise the bride on her most-awaited day!
$22.99
All bridesmaids want to help the bride, but there comes a time when we need a break from everything wedding! That's where this adorable wristlet comes in! With a cute pattern and an extra-spacious design, you can use this clutch as a coin purse, makeup organizer, or even a phone holder on your wedding day. Take a break from wedding things, and keep your essentials safe and sound in this charming satin clutch for bridesmaids. Nail the look for every big event with this fun, festival clutch!
.
$23.50
This personalized acrylic box clutch is the perfect personal unique bridesmaid gift. It can be filled with beautiful feminine jewelry, or even used as a lipstick case! Use them to store lipsticks, custom monogrammed lotions, or even small gifts that you may need your girls to share with each other. Each of these unique clutches is customized by hand and laser engraved with your custom message. This acrylic clutch makes the perfect personalized gift for a special bridesmaid or maid of honor.
$26.95
Your bridesmaids will be so excited to get their own personalized robes that match the rest of your bridal party. Each one will feel special and beautiful wearing their personalized robe while helping you create a fun background for pictures.
$26.95
Give the girls a gift that they'll treasure forever. Our exclusive Ring Style Robe design is perfect for any bride and her bridesmaids, available for a limited time only. Choose the robe color, size, and text color to match your wedding theme.
$26.95
These Junior Bridesmaids' robes will make your junior bridesmaids feel special and beautiful on their wedding day. They will love having their very own customized robe to wear to all the festivities.
$29.99
This robe is perfect for your bridesmaids in similar or contrasting colors, or to wear spontaneously around the home on a daily basis. Made of premium Modal fabric, you'll feel both comfortable and chic every time you wear it. The beautiful lace stitch at the bottom adds a classy touch to any outfit.
$44.55
 The beautiful denim jacket can be worn by the bridesmaids, the bride, and the groom as they celebrate their wedding night. This jacket is perfect for your bridal or bachelorette party and will be something that is worn again and again!
$49.99
This Bridesmaid Clutch Bag is perfect as a bridal handbag or as a gift. Made with quality materials and a beaded finish, this bag is both elegant and sturdy. It's just the right size to take your essentials with you wherever you need to go.
Additional: DIY Bridesmaid Gift for Bridesmaid


Rhinestone Hair Clips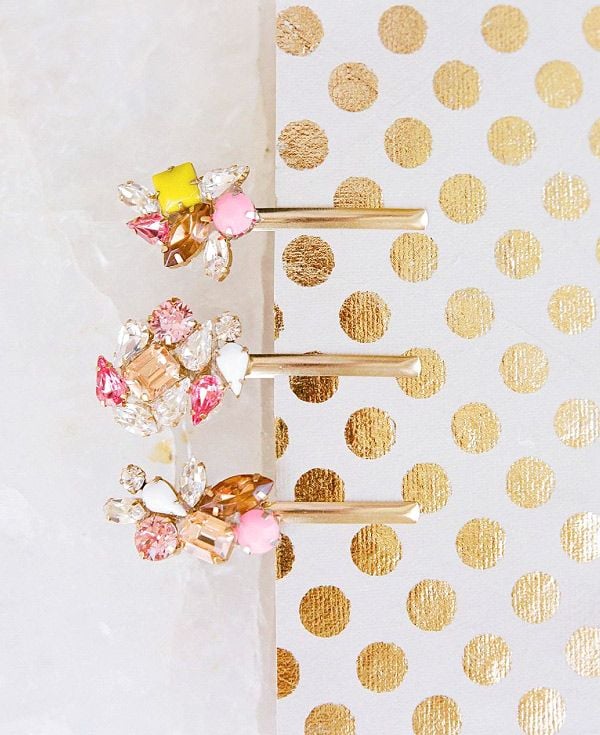 These DIY rhinestone hair clips are the perfect way to add some fun to your wardrobe. With a wire-wrapped design and rhinestones for sparkle, these hair clips can be worn as part of a boho chic outfit or on their own for a more casual look.
Trinket Dishes
Ring dishes are such a fun DIY craft, especially when you can make something that can be enjoyed for years to come. These gorgeous gold and white DIY ring dishes are made with polymer clay, making them a super simple at-home project that's pretty forgiving for non-DIY experts.
Bridesmaid Gift Buyers Guide
Bridesmaids are an important part of the wedding. They're there to support the bride through the happy times, and they understand that you appreciate their help with planning your big day. As a thank you for all the love and support they've given you, it's important to find a thoughtful gift that shows them how much they mean to you.
Cost
You might be wondering how much money you should spend on bridesmaids. You want to get them something unique, but you don't want to spend too much money. The average cost of a bridesmaid gift is $1.99-50 (excluding shipping expenses), which fits in nicely with other bridesmaid gifts given by the bride or groom, as well as wedding budgets in general. If you're feeling very generous, consider spending more than that—but keep it reasonable to avoid upsetting anyone!
Features
Here are some features that you should consider when purchasing a gift for your bridesmaid.
Useful features: Many gifts come with useful features, like a wallet that has pockets for credit cards and cash. If the person you are buying for is always losing their phone charger, then they might appreciate one that clips onto their keys so they can easily find it when they need it.

Fashionable features: Some bridesmaids prefer elegant jewelry or fashionable accessories, while others prefer practical items like watches or wallets. If you want to give your friend something she can wear every day without it looking out of place at work or at an event with her friends, then look at how the clothing item looks before making your purchase decision.

Unique brand traits: Some brands have certain things about them that make them stand out from other companies in their industry (like Anthropologie's unique decorating style). You should look for these details when shopping!
Design
These days, there are a number of bridesmaid gifts options available. Bridesmaids can choose from a huge variety of styles, colors, sizes, and materials. These choices include patterns and shapes as well. This makes it easier for you to find exactly what your bridesmaids will like!
Frequently Asked Question:
What gifts do you give a bridesmaid to be?
A good rule of thumb is to give a bridesmaid gift that will be useful for her throughout the wedding and beyond. For example, if she's someone who travels often for work, consider giving her an initial monogrammed luggage tag so that she can easily identify her bags at the airport or on trains. If she has a young child whom she cares for on a regular basis, then consider getting her something that will keep both of them entertained during long car rides (such as a personalized storybook).
How much do you spend on bridesmaids' gifts?
It's never a good idea to spend an exorbitant amount of money on your bridesmaids' gifts. While it may seem like the proper thing to do when you're getting married, your friends will appreciate it more if you give them something that they'll actually use. For example, instead of giving each of your bridesmaids their own set of designer luggage tags, consider buying one for all of them and then divvying up the sets among those who need them most—such as the bride herself!
Conclusion
I hope this guide has helped you narrow down the perfect bridesmaid gifts.  If you still aren't sure what to buy, don't worry! There are so many great options out there that it can be hard to choose just one.