Peyton | 12.30.2021

My SIL loved the gift, prefect for all her wedding and bachelorette events over the next year!
Julianne | 12.27.2021

Had a jacket made not for bridal just loved the design and price was good. Sized up to the plus size, bc of reviews. Glad I did. But wow I love this jacket !!!!!!!!!!!
Imperfectly Perfect Weddings | 01.07.2022

Couldn't recommend them more! Jackets were nice quality fit great, customization was exactly as pictured. Will be ordering more for sure!
Katherine Parker | 01.10.2022

Cannot rave enough about this Jean jacket! The jacket came out so beautiful!!! The bride is in love with the jacket. Thank you so much for the perfect gift!!!
These bridal denim jackets are a great gift and is perfect to wear at your bachelorette party! These denim jackets are made to order. Choose the text color that works best for you!
28 Best Bride Denim Jackets - A Must Have For Every Bride
You've got the dress and the floral arrangement, but you're still looking for something to complete your look. A bride denim jacket is the latest trend in wedding fashion, and it can be worn throughout your wedding weekend as well as long afterward. The bride denim jacket is a fun addition to any outfit – whether you're wearing jeans or a dress on your big day!
Come on and get your Bachelorette Party denim jacket. Whether you're heading to Vegas or the local bar for a night out, this custom future Mrs. Collins denim jacket is a great gift for any bride-to-be! This unique Bachelorette Party Denim Jacket is perfect to wear at your bachelorette party, so order today!
The Mrs. White Denim Jacket with Pearls - Roman Style is a perfect gift or addition to your wardrobe. The jacket features a white denim fabric with pearls that can be customized to your choice. Crafted with high-quality fabrics, this Roman-style jacket will never fail to give you that elegant and stylish look while making you feel confident in any situation.
Be sure to check out this amazing Custom Future Mrs. Lovette Black Pearl Denim Jacket for your upcoming bachelorette party! This customizable jacket can be purchased in a variety of different sizes, but be sure to select the perfect fit for you. Wear this jacket to the bar and wait for your bridesmaids, or put on some music and dance it off at home!
The White Pearl Jean Jacket is the best way to complete your outfit. You can use it for any occasion and you are guaranteed to look amazing! Whether you're looking to add a pop of color to your wardrobe, or just want some extra protection from the elements, this unique, customizable jacket is sure to put you in the spotlight.
Show your bridal party how much you care with a Mrs. Bridal Denim Jacket. Bride denim jackets are the perfect choice for the bride-to-be, as well as her friends at her bachelorette party. Pick your favorite shade of denim jacket, along with any personalization you'd like on the back, front, or sleeves.
Personalized bride jean jacket is a great gift for your wedding anniversary or another momentous occasion. This is a truly unique piece that can be customized to fit the personality of the bride. The quality and originality of this jacket will make it one of her favorite wardrobe items for years to come.
You may never meet the person who wears this jacket, but they will make you feel great on your wedding day nonetheless. This Personalized Future Mrs. Bridal Denim Jacket in White would do just the same. With a custom embroidery that reads "Future Mrs.," this denim jacket offers you a unique look and makes you feel much more confident. It's a great choice for weddings and engagement parties.
Show off your Bachelorette style with these Personalized Mrs. Blue Denim Jacket Gifts! This denim jacket is perfect for all occasions where you have to assert your fun and carefree attitude. Also, choose the text color that works best for you! Place your order now and get ready to rock!
Feeling giggly and in love? If you are excited to become a bride, then this is something that you have to have. This Customized Mrs. White Pearl Jacket offers something unique; it's personalized to reflect your life, feelings, style, and beauty. You can choose from several images, new personalization, and fashion choices.
Are you looking to create a unique look? Or just want to upgrade your wardrobe by adding some eye-catching pieces? Our Custom Denim Jacket is perfect for you. It features a simple, yet eye-catching design that will definitely have people staring at you in awe. Be individual and get this jacket for yourself today

Denim jackets are a winter's favorite, and they are a must-have piece of clothing in your wardrobe. So if your anniversary or your wife's birthday happens to fall in winter, we have an excellent gift for you: Wifey Bride Denim Jean Jacket.
This customized Wifey Denim Jacket for Brides has been made with premium quality denim that's safe from the cold and makes you look stylish. With its classic denim color, this jacket goes with most outfits. It has a simple look that makes it wearable for almost any occasion and also makes it go with most outfits.
Let your bridesmaids know that you are grateful for the love and support they have shown you with this Custom Mrs. Smith Black Pearl Denim Jacket. It's a great gift and is perfect to wear at your bachelorette party! So, place your order for this denim bridesmaid & bridal jean jacket. Also, choose the text color that works best for you!
Whether you want to wear it as a bridal jacket or simply for everyday use, you will love this denim jacket. Made with premium quality denim, this Jacket keeps you safe from the cold and also makes you look stylish. With a simple style that goes with most outfits and events, this Wifey for Lifey Denim Jacket is one of a kind.
This jacket is a great gift for the bride-to-be. She will love rocking this jacket at her bachelorette party! Our bride jean jacket has a classic denim look and feels that's great for any occasion. The text color you choose is completely up to you, so order your favorite style now!
Have you ever seen a pair of white jeans that look so cool and stylish? They are really a great thing to wear and if you want to make them even more fashionable, then this Wifey White Jean Jacket with Pearls would be just perfect. It will make your life easier by simply adding a little bit of style to it.
We know that planning a wedding can be stressful and time-consuming, and we want to help you make your bachelorette party something to remember. This is a great present, and you can wear it to your bachelorette party. So, order this denim jean jacket for a bride. You can also choose the best color for the text.
This Mrs. Taylor Black Pearl Denim Jacket is a great gift that all the girls can share and wear at your bachelorette party, weekend getaway, or bridal shower. It's so much fun to wear and can be accessorized to match any outfit! Choose the text color that works best for you from the drop-down menu.
People have been searching for more individualized products in recent years. This is because they like to choose what they feel is perfect for them, something unique which makes them feel proud and confident to wear it. This unique Wife of the Party, The Party White Pearl Denim Jacket would do just the same 
You'll be sure to have the best time of your life with this denim bachelorette jean jacket. Not only can you wear it to your bachelorette party, but it's also a great gift for you to keep and cherish on your special day and in future years to come!
Get this Blank Blue Denim Pearl Jacket and look stunning at your bridal shower! Featuring a classic denim color, this is the perfect addition to any wedding outfit. Also, choose the color you want best for your collar.
Forget about the old battles, fashion is for you and for everyone to be unique. This is our denim jacket featuring a blank White Pearl on the left chest. It means you can customize this unique denim jacket in many ways: embroidery, printing or studs, we will take care of it all at a very reasonable price.
You've spent weeks or months looking for the perfect bridesmaid and bridal jean jacket. Well, you can stop waiting now! This Blank Black Pearl Denim Jacket makes a great gift and is the perfect thing to wear to your bachelorette party. So, order this bridesmaid and bridal jean jacket made of denim. Also, pick the text color that you like best!
Are you planning to go out for a bachelorette party? Then the Blank White Fringe Denim Jacket is a great choice. The stylish bachelorette party jacket comes with fringed sleeves and an open-front design that makes it very comfortable to wear. The denim jacket also has an elastic waistline, allowing it to be fitted on you perfectly.
This adorable denim jean jacket is a fun gift for your friend, sister, or another family member who tied the knot! Put their name on it and make this personalized bridal shower denim jacket even more special. Design with your choice of text color and make sure to pick their favorite color!
You ladies are going to have such a great time at your bachelorette party, so why not make this amazing denim jacket the center of attention? With its cute buttons and large pockets, you'll be sure to get tons of compliments! Also, choose the color of the text that works best for you!
This one-of-a-kind jean jacket is perfect for your bachelorette party! So, order this Cute Custom Bride Pearl Blue Denim Jacket and customize it with your text color to make this denim bridesmaid & bridal jean jacket as unique as you are.
 This Future Mrs (Last Name) Custom Pearl Denim Jean Jacket is a great gift for the bride-to-be at your bachelorette party! She will love wearing this denim bridesmaid & bridal jean jacket. Also, choose the text color that works best for you!


Additional: The Perfect Bride Jean Jacket For Your Wedding Day
Etsy Product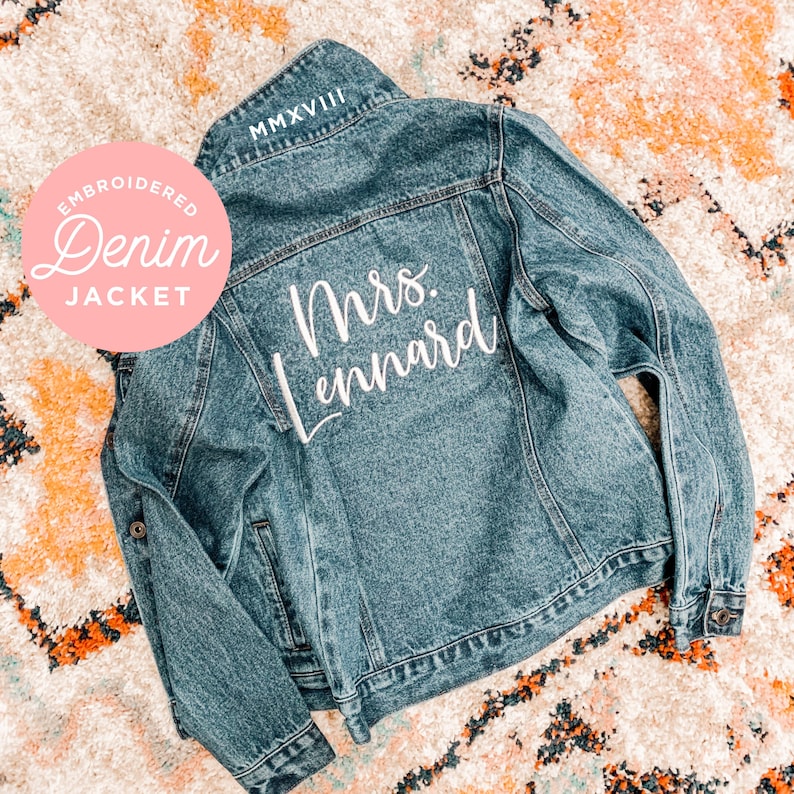 The bride will look absolutely gorgeous in this embroidered bride jean jacket with her unique initials! Have your bridal party wear these embroidered bride jean jacket on your big day or have one customized just for the Mrs. after you get engaged! These bride jean jacket look absolutely gorgeous and embroidered.

Bridal Box Product
This beautiful bride jean jacket is for all the classy and elegant brides, this will make you feel like a princess in the comfort of your own home. It's very soft, comfortable, and breathable, yet sturdy enough to hold those pearls...Each individual pearl was hand set by my expert seamstress on the jacket to ensure they lay perfectly on EVERY aspect of the jacket (front, back, sleeve), with no tacky glue hanging from anywhere.
White Rhinestone Fringe Jacket
The Bride Product
Show off your pretty personality in this White Rhinestone Fringe Bride Jean Jacket. Hand-stitched and luxuriously embellished with sparkling rhinestones, you will look radiant in this white denim jacket. The fringe that cascades down the back of the jacket add a touch of fun and flair to any outfit you may have planned.
Bride Denim Jacket Buyer's Guide
Denim jackets have been a staple women's fashion as an easy accessory to complete any look. They're a classic piece that looks great on everyone and can be worn in so many different ways. But with all the different styles, colors, and lengths available, it's hard to know which one is right for you. That's why we've created this guide to help you find the perfect denim jacket specifically made for your wedding! 
COST
The cost of bride denim jackets depend on several factors: the style and quality of the jacket, the brand, the size and color of your jacket, as well as its length and features.
Depending on what kind of look you're going for—casual or formal—you'll want to consider how much money makes sense for your budget. And if you're looking for a designer-looking jacket but don't want to break the bank, we recommend that you try one out first before making any purchases.
STYLE
When you're shopping for your denim jacket, it's important to know what style is best for you. You can find denim jackets that range in length from slightly cropped to floor length, and they come in all sorts of colors and details. Some jackets are customizable, some are embellished, and some over meant to be form fitting while others are oversized. Our recommendations are the jacket must be personalized. This is a wedding jacket so you want your name or wifey or bride written on the back. You may also want to customize the collar of your wedding jacket with you wedding date. The size should also be oversized, esp. If you plan to wear it to your wedding photoshoot or wedding day. Remember you're wearing you wedding dress under your jacket so it has to fit comfortably! 
FEATURES
When shopping for a bridal denim jacket to wear to your wedding, it's important to consider the features that are most important to you. Are you looking for something that's versatile and can be worn in a variety of situations? Or do you want a specific style or color that will match your wedding dress and accessories?
No matter what your needs are, we've got you covered. Our guide includes a variety of different bridal denim jackets with different features, so you can find the perfect one for you. We have classic denim jackets with simple styling and no-fuss details, as well as embroidered and embellished options for a more fashion-forward look. And if you're looking for something specific, we also have a bridal denim jacket in all different colors and lengths to suit your needs.
MONOGRAM
A monogram is a personalized logo made up of one or more letters, often representing a person's initials. It can be embroidered on almost any type of fabric, from shirts and hats to towels and linens. Monograms are a very personal way to show off your style and add a unique touch to all of your belongings.
If you're looking for a unique gift for someone, or just want to add some extra flair to your own wardrobe, consider getting a monogrammed item. There are many different places to get them done, so you can find the perfect style and placement for you. And if you're not sure what letter to choose, we've got some tips to help you out!
When can I wear my wedding denim jacket? 
You can wear your jacket at your bridal shower, bachelorette party, during your wedding photoshoots, wedding day, honeymoon, dress shopping, etc.. If the day of your wedding is cold, or if you're having an outdoor wedding, the jacket is perfect for that day as well. There's nothing cuter than seeing a couple wear their newly wed, Mr and Mrs merch. On their flights to their honeymoon, and most flights are cold so the jacket comes in clutch in moments like this. The bridal denim jacket is becoming a staple in wedding fashion because of its versatility. So wear it where you feel comfortable - your options are limitless.  
Can I wear a denim jacket with a dress?
Yes, you can wear a denim jacket with a dress. Denim jackets are a versatile and stylish item of clothing that can be worn with both dresses and skirts. For a casual look, try wearing a denim jacket with a dress or skirt in a light fabric such as cotton or linen. For a more formal look, pair your denim jacket with a dress or skirt made from heavier fabrics such as wool or velvet.
Conclusion
I hope that this article has given you some ideas for how to make your own denim jacket. If you have any other tips or tricks, feel free to share them with me!